The Google Free Hotel Booking interface is certified and activated for all hostel. If you do not find the interface active, please contact us. The reason can be on both side: For some users we could not find a google my business account to match the data of your book.world account. Other hostels do not have an active BWO (BookWorldOnline) setup.
You are welcome to check your hostel here. Once you found your hostel change to the Price tab and scroll down to "All options". Maybe you even have to click on the view more options area. Google informed us, that if there are many booking links for a particular property, sometimes not all the free booking links will appear.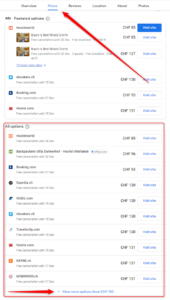 We did not only manage that our Google interface is certified and activated. We are proud to see that the entries get additional attention with the blue check mark for "Offical site"


Guest will be forwarded to BWO and the bookings are stored with gfl (Google Free Link) as agent.

Webinar
Google invites you to a webinar on December 16, 2021 3:00 PM – 3:30 PM CET. The episode will cover how to increase direct booking swith Google:
Travel recovery and insights
Google Hotel Search overview
Optimize your Google Business Profile
Activate Hotel free booking links
Partners on the impact of free booking links
Live Q&A
We highly recommend to take this great oppurtunity to get in contact and learn directly from Google.
Please contact  us if you like to attend. We will sure forward all needed information for registration.
We are also in contact with a Google ads company, just in case you plan to futer push the direct bookings by running a Google ads campain. With such a campain you can boost your direct bookings even more. Please contact us if your are interessed.