Let me introduce some recent changes in admin as well as in DormBook. In the admin this does include the reorganization of our support organisation as well as added cost control elements. The first DormBook-verison of 2022 contains bug fixes as well as a  new feature.
admin: Contact form
With the contact form in admin.book.world we want to reorganize the support. With this you can identify yourself to us and authorize your request immediately. Please do not hesitate to contact us.
We are happy to support you in all matters – both from a technical and commercial point of view. We are looking forward to a long-term cooperation.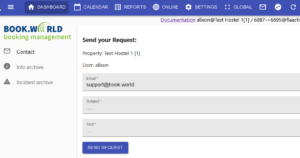 admin: Costs and account balance
Our billing system has always worked as a pre-payment system, so our system does charge you every month exactly to the services you use. While you could always ask us about the exact costs, you have it now ready to check together with the newest lines of your customer account directly in the admin.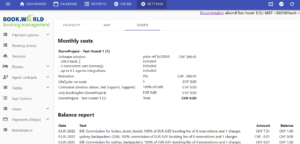 DormBook: new version
The first new DormBook version of 2022 is 7.22.0.10985. Unfortunately we found that some installed versions are not updated regularly. We recommend to update the stations not less than once per year.
In the latest version, additional services with long description texts can be better distinguished and identified in the DormBook.
Details to the changes of the DormBook versions you find in each case in the change log.
In our own business:
For personal reasons, Dean Strautins has decided to retire from the book.world (Hosteloffice) business.
We are grateful for all the energy and ideas Dean has invested in our product. To ensure a good transition, Dean has agreed to continue to provide support until the summer of 2022 for hostels in Australia.
We wish Dean all the best for the future and much success with new challenges.